Currently, we have stocks of this lens and if your powers show in the drop down lists below, you can still order this lens. If your powers do not appear, the recommended alternative is Dailies Aquacomfort Plus Multifocal
---
Description
Focus DAILIES Progressives soft contact lenses correct presbyopia, eliminating the need for bifocal or reading glasses.
Enjoy clear, natural vision at all distances, whether you`re reading a novel or a faraway billboard, without compromising your active lifestyle or showing your age. Your hassles with glasses are over!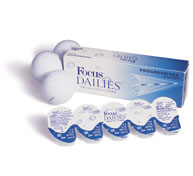 With Focus DAILIES Progressives, you replace your contact lenses each day, so you no longer need to worry about cleaning your lenses.

The unique, comfort edge design gives you a smooth, clean, precise edge unmatched for eye comfort. They`re an ideal option for people with allergies, because one-day use reduces the chance of the build-up of pollen and other deposits.
Focus Daily Progressive lenses have a 69% water content.
New: Have you considered Dailies Aquacomfort Plus Multifocal - a great replacement for Focus Daily Progressives that features blink activated moisture technology to deliver refreshing comfort all day. Great for dry eyes.
4 Reviews

| | | |
| --- | --- | --- |
| 5 stars: | | (2) |
| 4 stars: | | (1) |
| 3 stars: | | (0) |
| 2 stars: | | (0) |
| 1 stars: | | (1) |

Average Customer Review:

(

4 customer reviews

)
Most Helpful Customer Reviews:

Reviewer:

Mr Kim Richardson



Derbyshire, UK

Focus Dailies Progressives; Comfortable and effective

Recommended.

I`ve been trialling single focus Daily and Bi-monthly lenses for my +2.25 Add 2.00 presbyopia with glasses for reading.
I decided to try some multifocal/progressive lenses to see whether I could also achieve some useable reading vision.
These Ciba Vision Focus Daily Progressives have lived up to my expectations. My distance vision is better than with my previous single vision lenses as they seem to fit better and not move around.
I have better night vision for driving as they, suprisingly, produce less halos and glare than my varifocal glasses or single focus contacts.
They provide more than adequate "emergency" reading vision in good light, in fact I can easily see the date figures (1.5mm) and even the tiny tachymeter numbers on my watch which are less than 1mm across.
I found that I was not really able to read in dim light, such as a nighttime cofee shop menu but the "near" part of the lens definitely helps with seeing the car instruments at night.
In good light I can read a paperback book and I can read my laptop screen pretty well, although the technique for learning neuroadaptation is an ongoing process for me.
These lenses are also extremely comfortable for me, I am able to wear them for around 12 hours if needed.
The only problem I have is that they are harder to remove than my other lenses, I can't easily get hold of them, maybe because they fit better?
I`m writing this wearing bi-monthlies and reading glasses (I have to complete my optician`s trial) but I`d sooner be wearing the progressives - `nuff said!





Reviewer:

Anonymous



Saltburn, East Cleveland (Formerly North Yorkshire)

My experience with Focus Daily Progressive lenses

Having tried Specsavers "own brand Varifocal" contact lenses some time ago and struggling with close up work I decided to give Focus Daily Progressives a try.
Once the prescription had been suitably tweaked I find that I can manage distance and middle vision comfortably, extreme close up is still a bit of a struggle but nowhere near as bad as it was with the lenses that I originally tried from Specsavers (I had to tilt my head sideways to see anything close up!!)
I do find with this type of Progressive lens that some lateral head movement can often be an advantage for both distance and close work, although this is minimal and is similar to the vertical head movement required when wearing Varifocal spectacles.

I am currently typing this review wearing my Progressive contact lenses and it is nice to have the degree of binocular vision, especially for middle distance, such as viewing a PC screen, which monovision does not allow; I have been a successful monovision wearer for some time now and am an established presbyope (+2.00 add)

I haven't yet tried these progressive lenses for work as I have very high vision requirements at all distances in my job so prefer my Varifocal specs for that but for casual wear Focus Daily Progressives certainly allow more binocular freedom as mentioned before.

Andrew




Reviewer:

Anonymous



Leeds, UK

Subtle but they work.

I have used standard distance contacts for many years and end up using reading glasses for close up work.

These make a subtle difference but they are an improvement on normal lenses, I can read menus in restaurants and can make sense of my Blackberry, I wouldn't sit and read a newspaper without my readers but they do reduce the need of them.

Also I can happily wear them all day they are comfortable and as good as any other lens for distance vision.



Most Recent Customer Reviews:
dissapointed
Very disappointed in these contact lenses. i have been wearing single focus lenses for aboutg 10 ... Read more
See all 4 customer reviews on Focus Daily Progressives