Dry Eyes? Which are the best Contact Lenses?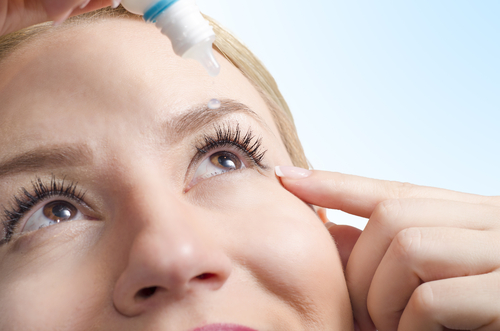 If your eyes look red, and feel sore and itchy, you may have dry eyes. More people in the world suffer from dry eyes than any other type of eye problem. Some cases are congenital, where the eyes fail to naturally lubricate themselves enough. Other times it's caused by environmental factors, like living or working in dry climates, or being exposed to lots of dust, pollen, pet dander, or any other airborne particulate matter.
Keeping eyes well hydrated and lubricated is important, and keeping eyes healthy depends on it. If natural tear production is not enough to do the job, artificial tears in the form of eye drops can be used. For anyone prone to dry eyes, wearing contact lenses may make their eyes feel dry more often, and even dryer than they typically become.
There are many different types of contact lenses, and some are better suited for people with dry eyes than others. Older styles of contacts can sometimes make eyes feel dry and irritated. Modern lenses, however, are more advanced, and are comfortable worn by people with dry eyes every day, and do a wonderful job of keeping eyes lubricated.
Making sure that your contact lenses are as comfortable as possible is important. Clear vision should not come at the cost of eye health or comfort. Below are several types of contact lenses we sell which do an excellent job of keeping eyes healthy and hydrated.
Daily Disposable Lenses for Dry Eyes
Dailies Total 1 – One of the newest lenses to reach the market, and so far the most effective at keeping eyes well lubricated. These lenses are the first to use a 'water gradient', which has a 33% water content at the lens core, which increases to 80% at the inner and outer surface of the lens. Most other lenses have a uniform level of water content throughout the entire lens.
Focus Dailies All Day Comfort - Designed with a built in moisturizer that is released throughout the day for all day comfort.
Focus Daily Aquacomfort Plus – Rated very highly among people with dry eyes, these lenses are also 69% water by volume, but have triple action moisturizers for increased comfort.
1 Day Acuvue Moist - A soft lens that uses new technology. It combines the proven 1 Day Acuvue lens material with a moisture-rich proprietary ingredient. This creates a smooth, long-lasting cushion across the entire lens, which helps eyes feel fresh and comfortable all day long.
Monthly Disposable Lenses for Dry Eyes
Biofinity – Manufactured using a state of the art silicone material that bonds to water molecules, these lenses will keep your eyes comfortably moist for up to 16 hours. They also allow plenty of oxygen to flow directly through the lens and into your eye, keeping them healthy and fresh, without drying out.
Air Optix Aqua – Silicone hydrogel lenses are the best at maintaining moisture levels while also allowing oxygen though so that your eyes can still breathe. These lenses use a one of a kind wetting agent that makes for a super smooth layer of contact between the lens and the surface of the eye.
Proclear - By using a unique biocompatible material, these lenses won't trigger any kind of response from your eyes, because your eyes won't even know the lenses are there. Touted as the most comfortable lenses available today, they are the ideal contacts for someone with sensitive eyes.
When choosing contact lenses, it's very important you do your research, and make sure you're a choice that addresses all of the important factors involved. There are many issues that may need to be addressed that might not be obvious to anyone that isn't an eye care processional. Also, vision correction is not the only job a contact lens has. It's also responsible for keeping your eyes well hydrated, and the material they are made out of can affect how well they are able to do that. Below are some tips and recommendations to consider when choosing contact lenses for dry eyes.
Consult: Consult with your optician to help determine which lenses are best for you. There may be some trial and error involved here. The will take into consideration the cause and symptoms of your dry eyes and help you determine which lenses to try next.

Lens Material: Silicone-Hydrogel lenses allow much more oxygen to reach the cornea than other types of soft lenses. These typically cost a bit more but may also cause less water to evaporate.

Solutions: Some solutions have ingredients such as preservatives which may be contributing to your dry eye symptoms. If you feel that this is happening to you, bring it to your optician's attention.