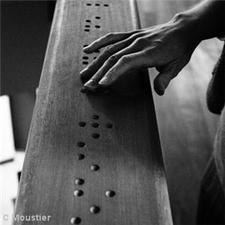 An app to help blind and partially sighted people to dial numbers on their mobile phones is available.

Stroke Dialler is part of the Eyes Free for Android programme, aimed at assisting the visually impaired with their phones.

Developed by Google engineers Charles Chen and TV Raman, Stroke Dialler is controlled by stroking the screen with a finger in a particular direction.

The number selected is read out.

Stroke Dialler could also be used by sighted people who are unable to look at the screen because their attention is focused elsewhere.

Mr Raman, who went blind as a teenager from glaucoma, has created a number of tools to help blind people.

It was he who created a Google search for visually impaired people as well as a Braille Rubik"s Cube.

Paul Schroeder of the American Foundation for the Blind told Mr Helft that Mr Raman is "a leading thinker on accessibility issues", adding: "His capacity to design and alter technology to meet his needs is unique."

by Emily Tait