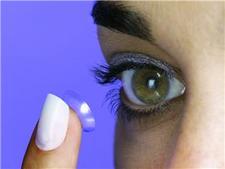 Developments in contact lens technology have led to advances such as better safety, an expert has said.

OSN Super Site picked up an interview given to Ocular Surgery News by Dr Florence Malet.

She said that recent years have seen the design and materials of contact lenses improve, explaining that five times more oxygen can now reach the eye.

This allows people to wear their contact lenses for longer and with more comfort.

"Complications are due to misuse, lack of lens care, not washing hands before fitting, reusing daily disposable lenses and [keeping] using the lenses when problems start," Dr Malet said.

The American Academy of Opthalmology recently urged people to take proper care of their contact lenses and maintain them as they should do.

It said that contact lenses should not be moistened with saliva or used with solution that has expired.

by Adrian Galbreth