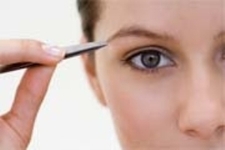 By Emily Tait

Small applications of eye makeup can make a big difference to a woman"s appearance, according to a makeup artist.

AJ Crimson told the Detroit News that while full makeup is not necessary from day to day, keeping eyes well presented can be very important.

He urged women to maintain their eyebrows, always curl their lashes and use mascara when they go out.

"You"d be surprised how far a little mascara and eye makeup can take you," he said.

Crimson"s clients have included singer Estelle and actress Hilary Duff.

Eye makeup advice for brides was recently given on Malaysian news source Sun2Surf.

Britta John, beauty expert for a Germany-based cosmetics firm, said that eye makeup should be in "discreet, delicately shimmering colours".

Fellow German expert Stefanie Koehn also reminded brides to wear waterproof mascara and eyeshadow as they may be shedding happy tears.

She suggested to women to have a skin peel shortly before the big day to prepare their skin.

by Adrian Galbreth