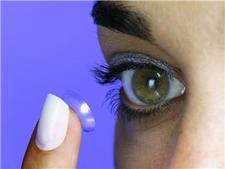 By Adrian Galbreth

Contact lenses need to be thoroughly rinsed in order to get rid of deposits of protein left on them.

This is the conclusion made in a study reported by OSN Super Site.

Participants in the research wore silicone hydrogel contact lenses from CIBA Vision for five days, using a disinfecting solution but not rubbing them.

The right lenses were then rinsed but the left ones remained as they were. Levels of protein on the contact lenses were then assessed.

It was discovered that rinsing the contact lenses removed more than half of the protein.

Martha Li recently used an article in Canadian publication Divine to urge people to be sensible about wearing contact lenses.

Stressing the importance of hygiene, she warned against wearing contact lenses for too long and reminded people of the need to keep them thoroughly cleaned.

Contact lenses should also not be worn if eyes are irritated.

by Martin Burns