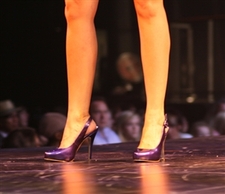 By Emily Tait

Eye makeup was used to set off a distinctive style at London Fashion Week.

Reporting on the style event for the Times, Hilary Alexander described the look attained by American designer Jeremy Scott.

She explained that he had chosen a prehistoric, cavewoman-style approach and that eyes had played a role in achieving the appearance.

Models appeared in wigs covered in cartoon bones and what Ms Alexander described as "bizarre red eye makeup".

She said that even famous faces like as Daisy Lowe and Pixie Geldof had been rendered "almost unrecognisable" by their red eyes and outlandish costumes.

Another distinctive look was recently sported by Kim Kardashian at the 2009 Primetime Emmy Awards.

She appeared in a one-shouldered white dress and topped off her look with blue eyeshadow and excessively long false lashes.

Erin Flaherty of The Frisky complimented the socialite"s choice of colour but criticised her eyelashes, which she believed were too exaggerated.

by Alexa Kaczka