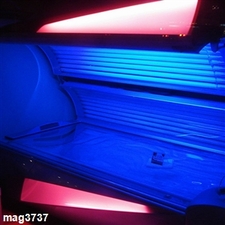 A woman who used sunbeds for years without protecting her eyes has spoken of her fear of going blind.

Sam Laing has been using the tanning beds frequently since she was 13 but did not wear goggles as she wanted her face to be evenly coloured.

Now 23, she has benign growths in her eyes as a result of being exposed to the ultraviolet rays.

Usually, it is people who live near the Equator who suffer from this condition.

The growths will cost her her vision if they are not removed, but the operation involved could itself blind her.

Ms Laing, who lives in Sunderland, said: "I was shocked because although I knew using sunbeds raised the risk of contracting skin cancer, I never knew it could cause something like this."

The Sunbed Association said that people need to heed safety warnings about eye protection.

According to Cancer Research UK, people under 18 should never use sunbeds.


by Adrian Galbreth