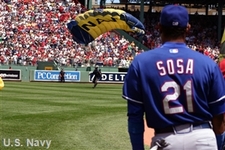 By Emily Tait

Sammy Sosa, the former slugger for the Chicago Cubs baseball team, has been spotted wearing coloured contact lenses.

The retired Dominican, who set records for the number of home runs he hit, has recently come under fire in the American press for trying to change his image in such a way.

A picture taken at the Latin Grammy awards in Las Vegas revealed that his skin colour has changed from dark to pale and his eye colour appears to have changed from brown to green.

In an interview with the Spanish network, Univision, Sosa blamed a skin cream for the change in his complexion and when asked about the change of eye colour he said that he wore green contact lenses to "try something different", the New York Daily News reported.

He also denied that he was trying to look like Michael Jackson and said that he was surprised by the amount of attention the change of image attracted.
by Alexa Kaczka