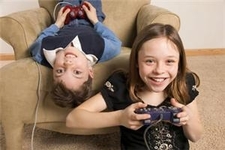 A boy"s eyesight improved by 250 per cent in a week after he was told to play videogames for two hours a day.

Six-year-old Ben Michaels had a lazy eye and specialists at Great Ormond Street Hospital told him to try the videogame therapy to see if it helped to correct the problem.

After playing on his Nintendo console each day with his good eye covered up, vast improvements were noticed.

"It went against the grain because you expect to be telling them to stop playing rather than encouraging them," the Daily Mirror reports Ben"s mum Maxine as saying.

She went on to say that her son has recovered from his eye problem "amazingly well".

According to the NHS, lazy eye, which is also known as amblyopia, usually occurs in one eye, but it can occur in both.

It affects approximately two per cent of children and can easily be identified during eye examinations.
by Emily Tait