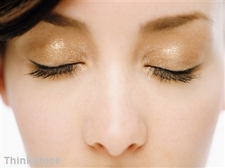 People who wear contact lenses have been offered some make-up advice to ensure that their eyes always look their best, with the latest product being evaluated by one expert.

The Daily Telegraph"s beauty correspondent Jane Cullen has tested the new UK make-up craze Rapidlash, which promises longer eyelashes thanks to its special gel formula which is applied before bedtime.

She concluded that it certainly has benefits and that her eyelashes looked noticeably longer after using the product, although she still needs to wear mascara over the top.

"If you dream of fuller, natural lashes, this may be the product for you. It isn"t an instant remedy, mind: with daily application, the first signs of growth are expected after four weeks and the full effect in eight to 12 weeks," Ms Cullen explained.

Recently, Dr Hilary Hawthorne, a Los Angeles based optometrist, told Osceola Sentinel-Tribune that contact lens wearers often make the mistake of trying to put them in after they have applied make-up such as mascara and eyeliner, but it is recommended that contact lenses should always be inserted before make up is applied.
by Emily Tait