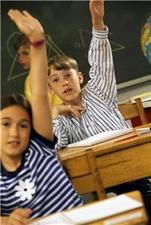 Contact lenses may be a good idea for children in need of vision correction, one source has claimed.

Rose Pastore, writing for AAP News, said that some children are fearful of being teased for wearing glasses and may be suitable candidates for contact lenses, while those who play sport may also benefit.

However, she explained that the suitability of the products may depend on whether the child is responsible and can follow a safe daily routine.

Ms Pastore noted: "The key is to think about how well your child remembers to do chores or homework, or if he is consistent about taking care of a pet. If your child needs constant reminders about daily tasks, he"s probably not ready for contact lenses."

Recently, figures from the Association of Optometrists showed that 70 per cent of schools in the country do not provide eye testing for students, which was described as an "absolute disgrace" by Bob Hughes, chief executive of the organisation.
by Martin Burns