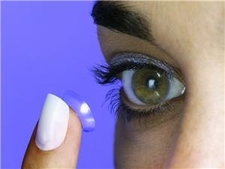 By Alexa Kaczka

Contact lens wearers have been warned that they should not adopt a "one size fits all" approach when on the hunt for themed contact lenses this Halloween.

Speaking to CBS, Dr Carol Karp of the Bascom Palmer Eye Clinic pointed out that there will be an increase in the purchase of decorative and coloured contact lenses in the coming days as October 31st approaches.

However, she noted that many people will be fooled into purchasing illegal and unsafe products which may damage vision because they are not the correct fit for their eyes.

"One size does not fit all. An infection in the cornea is very unpleasant thing to have because it is very painful and then, in addition, the infection can cause scarring on the cornea which will permanently block your vision," Dr Karp warned.

It comes after Laura Butler of Parkersburg, West Virginia, revealed how she purchased decorative lenses from a souvenir shop while on holiday and was unaware of the dangers that could result from improper wear.
by Alexa Kaczka