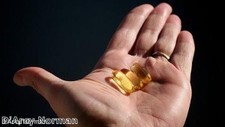 Millions of pounds in eyecare could be saved if people consumed more food containing omega-3 fish oil, according to a new study.

Research carried out at the Children"s Hospital Boston suggests that the development of conditions such as age-related macular degeneration (AMD) and retinopathy could be prevented or delayed if people have regular intake of omega-3.

This is a far more cost-effective alternative to expensive treatments for AMD and retinopathy such as anti-VEGF therapy, said Dr Lois Smith, senior investigator.

"The cost of omega-3 supplementation is about $100 (£62) a month, versus up to $4,000 a month for anti-VEGF therapy. Our new findings give us new information on how omega-3s work that makes them an even more promising option," she added.

This comes after a recent study highlighted that a majority of companies are failing to comply with regulations regarding the eyecare of their employees, that requires firms to fund eye tests and, if required, pay for the cost of glasses for those employees requiring them.
by Emily Tait