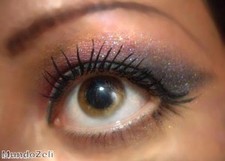 By Emily Tait

A number of eye makeup tips have been offered to contact lens wearers to ensure their Valentine's Day goes as smoothly as possible.

According to a post on the Living section of the One India website, ladies who wear the right eye makeup will have the maximum effect when trying to look their best on February 14th.

The source noted that love is most often expressed through the eyes and so women should take extra care to ensure this area of the face gets plenty of attention.

It advised: "Draw a hole around the border, apply some mascara and brush the eyelid with soft glitters. This will make your eyes look soft and beautiful. This beauty tip for Valentine's Day is of utmost importance."

Recently, Carolyn Brundage, writing for Chicago Now, said that people may want to replicate the look of model and TV presenter Vanessa Romero by going for a hint of blue eye makeup.
by Adrian Galbreth