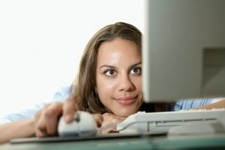 Using the internet when buying contact lenses has a number of advantages over shopping in a physical store, it has been claimed.

A post on the Pointlogics blog noted that shopping for contact lenses online is become increasingly popular as many people find it more straightforward than going to a traditional retailer.

The source pointed out that shoppers can choose from a vast number of online contract lens stores instead of being forced to rely on the few outlets present in their area.

"You can buy from the manufacturer"s internet site immediately or perhaps pick an alternative party seller that gives a large selection of brand names and … types," the post continued.

The article also highlighted the convenience of shopping for lenses online, noting that websites are operational 24 hours a day - unlike conventional shops.

Writing recently on Articlesbase, medical journalist Penelope Byrd said online shops are often less expensive options for people looking to save money on their contact lenses.
 
by Adrian Galbreth