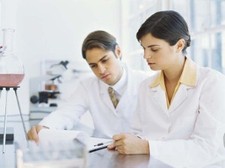 By Alexa Kaczka

Volunteers are being sought for a new study which will assess the effectiveness of a certain type of contact lens worn during sleep, which experts claim can improve people's eyesight.

Specialists from the University of New South Wales School of Optometry and Vision Science need 20 people aged between 45 and 65 for the presbyopia study, which they hope will eliminate the need for reading glasses among those involved.

Researcher Dr Paul Gifford said the specially-designed contacts, known as orthokeratology lenses, are already widely used in adults to correct short-sightedness.


"You pop them in at bedtime and they gently reshape the surface of the eye while you sleep. You remove them on waking and you can see well all day without glasses," he added.

It comes after Dr Margaret Ritterbusch, an eye specialist at Outlook EyeCare, said that she has seen "tremendous" success with new ClearKone contact lenses for patients with irregular corneas, particularly keratoconus sufferers.
by Adrian Galbreth