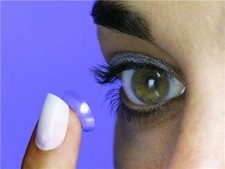 By Alexa Kaczka

Contact lens wearers have been advised on two ways in which they might be able to tackle the problems posed by allergies during the springtime.

The length of time which people spend wearing their contact lenses could be cut during the spring months if consumers do struggle with allergy symptoms, the Beth Israel Deaconess Medical Center staff optometrist, W Lee Ball, suggested.

According to the American Optometric Association (AOA), the expert also hinted that people's contact lens cleaning methods could be discussed between themselves and their optometrists.

Highlighting the role which optometrists can play when it comes to dealing with allergies, Dr Ball added: "In most cases, we can soothe allergy-related conjunctivitis with prescriptions or over-the-counter eye drops depending on the patient and his or her medical history."

Earlier in the year, the AOA also suggested that glaucoma needs to be detected and treated quickly so that people's eyes are not seriously damaged by the condition.
by Martin Burns