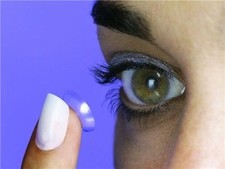 The main purpose of contact lenses should not be forgotten, despite the popularity of tinted lenses which can alter the appearance of people"s eyes, according to one expert.

Speaking to the Bangkok Post, Dr Narong Leedasawat, president of the Association of Thai Optometrists, said coloured contact lenses are growing in popularity among fashion-conscious people, but buyers need to be aware that they should only purchase official products.

The main purpose of contact lenses is to correct eyesight and only legal and official products should therefore be bought from reputable companies, the expert explained.

"Many [people] aren"t familiar with contacts, while careless application could also harm the eyes. When buying contact lenses, don"t compromise on price. Go for the ones that best suit your eyes and that have [an] approval stamp," Dr Narong advised.

Recently, Colleen Cappon, writing for Fox News, said it is essential that contact lens users do not wear the products for longer than the manufacturer recommends.
by Adrian Galbreth