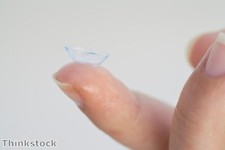 By Martin Burns

New technological advances are constantly being made in the field of contact lenses to ensure wearers benefit form the greatest possible comfort and vision correction, one expert has pointed out.

Dr Susan Blakeney, optometric advisor at The College of Optometrists, said new contact lenses are coming onto the market "very frequently" that can benefit all types of users.

"Technology is always improving and the range of contact lenses that are available - both the type of contact lenses and the prescriptions that they are available in - is increasing frequently," she explained.

Dr Blakeney added that people who may have been told previously that they were not suitable for contact lenses now find there may be contacts that can help them to see more clearly and suit their specific requirements.

"Things change all the time and are always improving as technology always marches on," she added.

It comes as experts at Microsoft, in collaboration with specialists from the University of Washington, revealed the finishing touches to smart contact lenses which could be used to monitor blood sugar levels.
by Adrian Galbreth