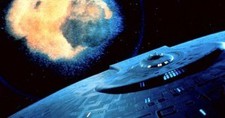 By Adrian Galbreth

Fans of Star Trek: The Next Generation will be a familiar with the device worn by the engineer Jordy La Forge, which enabled him to see even though he was blind, but now it looks like such an innovation may no longer be confined to the realms of science fiction.

That is because experts at the Hebrew University of Jerusalem have created a new type of device that is able to form a picture of the world around people thanks to the use of sound.

Many experts are suggesting that it could potentially be a life-changing development for people who have long resigned themselves to the fact they will no longer be able to see their friends, family and the world around them ever again.

The development team was led by Dr Amir Amedi, and based on an original innovation first created over two decades ago by the Dutch scientist Dr Peter Meijer, known as a sensory substitution device.

Dr Amedi explains in the new issue of the journal Cerebral Cortex that people's vision works thanks to two pathways in the brain, with one known as the ventral occipito-temporal pathway sorting form, colour and identity, and the other, called the dorsal occipito-parietal pathway, focusing on object location and responsible for coordinating visual data with motor function.

In MRI scans conducted by the experts, they found that blind people were capable of sorting these pathways by using parts of the visual cortex that do not require sight to work, and the team based the new device on these findings.

It is worn around the head, similar to wraparound goggles, and uses an algorithm to translate the position and appearance of an object into distinct tones, with wearers soon able to interpret these noises to show them the location, position and shape of things around them, even words on a page.

As Dr Amedi explains: "The brain is not a sensory machine, although it often looks like one; it is a task machine."

It is now hoped that further tests could lead to the roll-out of the device and eventually help blind people across the planet to 'see' again.
by Martin Burns