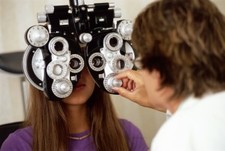 An eye test saved a man"s life after the optometrist referred him to hospital on finding swelling on his optic nerve.

Kele Pule made the referral of Stephen Abbott, 51, immediately to Ipswich Hospital for tests after making the discovery during an eye check-up.

Mr Abbott, a school inspector and former deputy head teacher, told Suffolk and Essex publication eadt.co.uk that he had had a check up but was suffering abnormalities in his sight such as seeing purple spots.

He visited an optician on his doctor"s suggestion and Miss Pule sent him to hospital when finding his swollen optic nerve.

A scan showed he had a tumour at the base of his spine, which has now been removed.

Action for Blind People recently stressed the importance of taking care of one"s eyes even in times of financial difficulty.

It discovered in a YouGov poll that a number of people are cutting back on costs by missing out on eye tests.


by Emily Tait