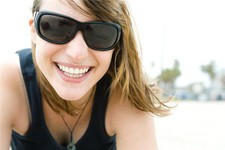 People heading on holiday this summer have been reminded that sunglasses are just as important as sunscreen when it comes to being protected from the sun's harmful UV rays.

Speaking to Radio Iowa, Dr Thomas Augustine, an optometrist in Urbandale, said that when people buy a new set of shades they should look for the sticker that says they will block 99 to 100 per cent of all harmful rays.

He explained that UVA and B rays are the invisible rays that eyes do not, see but they are the ones that do the most damage from the front of the eye all the way to the back of it.

People should not be tempted to buy the very cheap versions, which in many cases offer not protection whatsoever from the sun, the expert stated.

"Another thing to look for is more of a wrap, one that hugs closer to the eyes, if possible. Sometimes, there's prescription limitations but those just give you a little bit of extra coverage," Dr Augustine recommended.