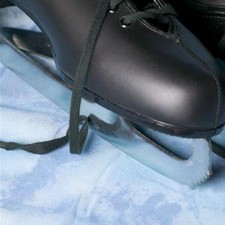 By Alexa Kaczka

This summer has seen sporting dreams come true, with many people collecting medals for their country and standing proud on the podium, yet for others the Olympics have meant heartbreak.

There is one promising skater who harbours serious hopes of competing in the 2018 Winter Olympics, but for him there is uncertainty surrounding whether he will actually be able to compete in the Games in six years' time.

Young ice skater Adrian Huertas has his sights firmly set on the event, which will take place in Pyeongchnag, South Korea, and told King5.com: "I really just like the feeling of flying and spinning, and jumping in the air, and rotating as fast as you can. I just think it's an amazing feeling. And it's so much fun."

He is intending on being a part of the US team at the Games, but the chance of this happening may depend on his eyesight.

Three years ago, the vision in one of his eyes went blurry, and the problem soon spread to the other eye, leading to him being diagnosed with the condition keratoconus.

It affects around one in every 2,000 people and occurs when the cornea becomes misshapen so that light rays cannot be focused

Although it can be a debilitating condition, and certainly end any sporting dream, there is hope for sufferers in the form of a new treatment developed by experts at Massachusetts Eye and Ear.

Ophthalmologist Dr Kathryn Colby, a cornea surgeon at the facility and associate professor of ophthalmology at Harvard Medical School, explained the technique is known as collagen cross-linking and is being tried by Adrian in a bid to salvage his skating dreams.

It involves soaking the eye with B-vitamin riboflavin and then applying U-V light, with this combination strengthening and stabilising the cornea.

Dr Colby pointed out that this enhances the structural proteins of the cornea and noted that in Europe it is the standard of care for keratoconus.

Adrian is hopeful the procedure will work and he can head on to South Korea for the 2018 Winter Olympics, telling the website: "Hopefully I can make it and be good enough to do it."
by Martin Burns