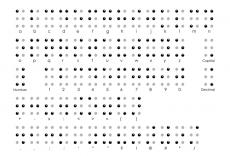 Members of the UK's Royal National Institute of Blind People's (RNIB) are very excited to announce the release of a brand new portable Braille device. News of this device was officially circulated by the RNIB at Europe's annual Techshare conference.

This exceptional device is called the Orbit Reader 20. It was specifically designed to be very user friendly by both Orbit Research and Transforming Braille Group.

The main reason this product is so revolutionary is its price. The Orbit Reader 20 will go on the market later this year for only about £349 per unit. That makes the Orbit Reader 20 a fifth of the price of an average Braille display currently on the market.

This astonishing drop in price will help put the awesome technology of portable refreshable Braille displays in the hands of those from underprivileged backgrounds. Developers hope that the Orbit Reader 20 will help promote Braille literacy with people who have visual impairments regardless of their economic status.

But it isn't only the price that has people talking about the Orbit Reader 20. The device itself is extremely convenient and easy to use. The refreshable display on this device has a total of 20 Braille cells. Braille readers can use SD cards from their library, or they could use various apps (for example, Adobe Digital Editions, Kindle, or iBooks) to read a wide variety of books. Readers can also plug in this device to a home computer using either the USB port or the Bluetooth technology.

People who have had the opportunity to test out this product have all expressed great admiration for its efficiency. This device can handle not only texts in English, but also musical scores and foreign language books. Braille readers are happy that they now have a convenient way to practice their Braille literacy skills.

For those who are unaware, Techshare is an annual event in Europe that brings together the brightest technological minds in various fields. Leaders in education, health care, transport and health services all meet to discuss the latest in accessible technology. This year the conference was held at Glasgow Science Center in Scotland, and the lead partner for the event was none other than Google.

It has been about 40 years since the invention of refreshable Braille technology, yet this technology has only been used by those who could afford the hefty cost. With the Orbit Reader 20, the RNIB believes almost every person with a visual disability will now be able to afford this wonderful technology. The Orbit Reader 20 will only help the world's blind and visually impaired patients learn and practice their Braille on a more regular basis.