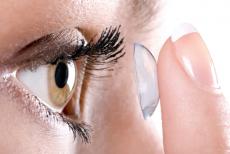 Nanotechnology experts have become increasingly interested in developing new nanomaterials to help diabetic patients keep track of their blood sugar levels. Most recently, researchers at Oregon State University (OSU) have successfully put a glucose sensor into a pair of contact lenses. Although this research has a long way to go, this technology could make it a great deal easier for diabetics to take care of themselves.

The OSU researchers have incorporated glucose sensors into these highly sophisticated nano-enabled contact lenses. All of this is totally transparent, and the OSU team believes it can make a device that will automatically release insulin when these contacts signal a low blood sugar level.

For those who want to know about the technology fueling these contacts, the OSU team told reporters that it used a nanostructured field-effect transistor made out of gallium zinc oxide. They call this transistor the IGZO FET. IGZO FET technology was actually first discovered in Tokyo, Japan, in 2004. Developers around the world love IGZO FETs mainly because they are totally transparent. Also, many display manufacturers like IGZO FET designs because it is easier for them to incorporate LCD displays onto them.

OSU professors said that that they wanted to work with IGZO right from the start of their research. IGZO not only offered the great feature of transparency, OSU researchers believe that IGZO FETs will be much easier and cheaper to manufacture than other products. Specifically, OSU used patterning techniques they feel will drastically reduce the cost of manufacturing these contacts. Some of these techniques include e-jet printing and nanolithography. Also, the OSU researchers have found that their nanostructured IGZO FET designs are far more accurate at picking up glucose levels in the eyes than the non-nanostructured IGZO designs.

Now the OSU researchers are devising a pump that will work as an "artificial pancreas." They hope to create an intricate communication system that can instantly send messages from the sensors to this pump and, if need be, the pump can instantly produce the right amount of insulin needed. This project, however, is still in the very early stages of development.

And it isn't only glucose these professors are interested in tracking. These OSU professors told reporters that they are excited to use these sensors to gather data about cortisol levels, overall eye pressure, and even uric acid levels. In the future, these OSU researchers hope their innovations can help with a wide variety of health conditions including glaucoma, anxiety, and hyperuricemia.