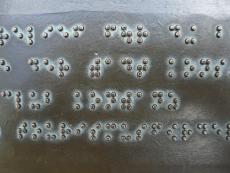 Two American brothers believe that there's a cure for blindness out there, and they've made it their mission to help scientists discover it. That's why these brothers, Bradford and Bryan Manning, founded their clothing company Two Blind Brothers.

You might've seen Two Blind Brothers in the news recently. Both Ellen DeGeneres and Virgin founder Sir Richard Branson have donated large sums of money to help build up this unique clothing company. Two Blind Brothers has also been featured on many national news outlets, including a special report on NBC News.

But Bradford and Bryan are not in this business for the fame or the money. In fact, 100 percent of the money these brothers receive from Two Blind Brothers' sales is donated to pre-clinical trials. These trials all have to do with blindness and they are all in the booming biotech field.

Bradford and Bryan suffer from an eye disease of their own, which is officially known as Stargardt's. Stargardt's is a somewhat common inherited juvenile macular degeneration disease. The photoreceptor cells in Stargardt's patients' eyes die extremely quickly, which makes it incredibly difficult to see. The brothers said that they both noticed the symptoms of this eye disease at an early age. Today, they can only see clearly with their peripheral vision.

Since both brothers struggle with their vision daily, it might seem odd that they went into the fashion business. However, these brothers have argued on numerous occasions that their "disadvantage" is an advantage in the fashion world. While other fashion designers focus on visual things like pattern, Bradford and Bryan focus on their clothing's texture. The brothers pride themselves on offering some of the best feeling clothes on the market today. Also, many of Two Blind Brothers' clothes have unique patterns incorporating letters from the Braille alphabet.

These two young men say they owe all of their current success to the loving support of their parents. Bradford and Bryan told journalists that their parents allowed them to fail numerous times and were always supportive of even their craziest entrepreneurial ideas.

Bradford and Bryan receive thank you letters everyday from people suffering from similar eye conditions. All of these messages encourage the brothers to push harder in their endeavors and raise money for blindness research.

Two Blind Brothers currently sells its products online . This company's catalogue includes items for both men and women. People can contact the company using Facebook, Twitter, Instagram, or by e-mail. Current college students interested in the fashion industry can even apply for an internship at Two Blind Brothers.

There are over 180 million people around the world with some type of visual impairment. The most common form of macular degeneration is called Age-Related Macular Degeneration (AMD). AMD usually occurs in people over the age of 60.