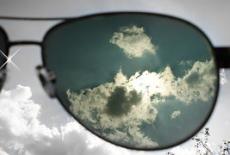 Employees at Transitions Optical decided to use the launch of its new "Style Colours" lenses as an opportunity to raise funds for the less fortunate. Transitions Optical executives chose to raise awareness for the Thornbury Stroke Support group at its official "Style Colours" launch party.

Guests at this event enjoyed both lunch and a raffle. In total, Transitions Optical raised £300 for the stroke support group.

All Transitions Optical employees at the lunch wore different coloured shirts in celebration of the new lens colours. These new colours include amethyst, sapphire, emerald, and amber. As of May 2nd, anyone can order these stylish adaptive lenses online.

Transitions Optical still offers its more traditional lens colors such as grey, green, and brown. These lenses also turn darker when exposed to harmful UV rays.

As the name suggests, the Thornbury Stroke Support group was organized to help stroke survivors living in the Thornbury district of England. The organization was founded in 1981 and is officially a member of the U.K. Stroke Association.

Not only does the Thornbury Stroke Support group help spread quality information about stroke symptoms and recovery, it also organizes various events for stroke survivors to take part in around England.

Trustees in the Thornbury Stroke Support group thanked Transitions Optical for its generous donation. Anyone interested in volunteering for the Thornbury Stroke Support group can check out the group's official website at thornburystroke.co.uk.

Founded in 1990, Transitions Optical was one of the first lens companies to focus exclusively on adaptive lenses. In addition to eyeglasses, Transitions Optical sells adaptive sunglasses and shields. Today, this company is partly owned by Essilor and PPG Industries and has its main headquarters in Ireland.