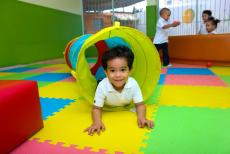 A new study released by CooperVision suggests that dual focus contact lenses (DFCL) work better than single vision lenses at slowing the progression of myopia in children. The DFCL also showed great promise at reducing axial elongation in study patients.

CooperVision researchers collected data from 144 myopic children between the ages of 8 and 13 over a three-year period. These 144 children were split into two groups: 74 children were given the Proclear single vision lenses while the other 70 wore the DFCL.

Eye doctors at four approved investigational sites measured each child's myopia progression and axial elongation. After only one year, CooperVision employees saw a marked difference between myopia rates in children with DFCL versus single lenses. Single lens patients showed well over half a diopter of myopia progression, whereas DFCL patients had only one-fourth of a diopter.

While the results from years two and three were less dramatic, CooperVision found that DFCL patients had a slower myopia progression rate on average.

In terms of axial length, the dual focus group showed a slower rate of growth. The report showed that the dual focus group grew from 0.1 mm to 0.24 mm between the first two years. By contrast, the single vision group started at 0.15 mm and grew to 0.32 mm by year three.

Bottom line, the DFCL helped reduce myopia symptoms 55 percent greater than single vision lenses. Also, DFCL reduced axial elongation about 50 percent greater than single vision lenses.

Although this randomized study analyzed myopic children from around the world, there weren't any marked differences between different ethnic groups. Study authors note that the DFCL worked the same "across different sites, age groups, and genders." The four countries that participated in this study include England, Portugal, Canada, and Singapore.

Eye doctors are concerned about the rapid rise of myopia cases in children around the world. Dubbed the "myopia boom," almost every developed nation on earth is seeing double-digit growth in the number of children in need of myopia treatment.

The hardest hit region of the world is East Asia. Almost 100 percent of children in nations like Singapore, Japan, and South Korea wear glasses for myopia.

A few obvious reasons for the rise in myopia rates are the prevalence of electronic screens, nutrient-deficient diets, and a lack of sunlight exposure. Some ophthalmologists also argue that genetics may play a part in this "myopia epidemic."

CooperVision hopes this study will help optometrists and contact lens manufacturers effectively combat the rise in myopia rates. More dual focus lenses could dramatically help reduce myopia symptoms in children.

CooperVision is a contact lens manufacturer based in Pleasanton, California. Founded in 1980, CooperVision is now owned by The Cooper Companies. CooperVision also has manufacturing and distribution centers in Puerto Rico, England, New York, and Belgium.

Paul Chamberlain, a senior manager at CooperVision, presented this study at the 2017 American Academy of Optometry meeting in Chicago. Chamberlain also presented this data at the 2017 British Contact Lens Association Clinical Conference in Liverpool, England.