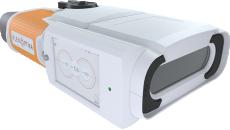 The startup biomedical company PlenOptika is on a mission to help eye doctors perform cheap, safe, and quick eye exams anywhere in the world. To carry out this lofty goal, PlenOptika has developed a handheld device with the ability to measure a person's eyes within just 30 seconds.

Called the QuickSee, this two-pound portable device works by calculating the amount of light that passes through a person's cornea and lens. After turning the machine on and putting it by a patient's eye, all doctors have to do is take down the prescription data that comes up on the built-in screen. PlenOptika executives say the QuickSee is just as accurate as a standard desktop autorefractor for a fraction of the cost.

PlenOptika wants to sell QuickSee devices in developing nations. While PlenOptika will sell the QuickSee in North American and European nations, the prices will be significantly higher. Since PlenOptika is more concerned with making their technology as affordable as possible in the third world, the company has to get its profits from sales in the developed world.

Shivang Dave, the founder and CEO of PlenOptika, has been working with fellow MIT graduates on the QuickSee since 2011. Over the past few years, Dave has put his QuickSee to the test in a few clinical trials. All of the data from these trials suggests that the QuickSee can give a patient as accurate a vision prescription as a certified optometrist.

Although the QuickSee will greatly help optometrists in developing nations, this device won't replace standard visual exams with a trained doctor. QuickSee will, however, make it far easier for optometrists in rural areas see more patients every day.

Biomedical technology researchers at both MIT and Madrid-MIT M+Visión Consortium created PlenOptika. Ever since PlenOptika was founded, the company has raised around $3.5 million in funds. A few of PlenOptika's major backers include the National Eye Institute, Massachusetts Life Sciences Center, and the Ministry of Education of the Madrid Region, Spain.

Shivang Dave has degrees in bioengineering and biomedical engineering from MIT, the University of Washington, and the University of California, Berkeley. Before founding PlenOptika, Dave worked as an MIT M+Vision Senior Fellow and then as an Accelerator Cohort for the Social Innovation Forum.

PlenOptika's main headquarters is at the Harvard Innovation Launch Lab on Western Avenue in Allston, Massachusetts. Anyone can follow the latest news from PlenOptika either the company's website or Twitter page.