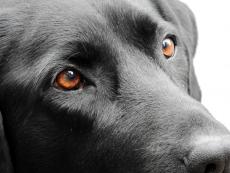 Doctors and veterinarians at the University of Pennsylvania (UPenn) have developed a new gene therapy procedure that was able to heal the eyes of dogs with a specific strain of macular degeneration. While still in its preliminary stages, researchers believe there's a good chance this therapy could treat the eyes of humans.

The disease researchers were interested in treating is commonly referred to as "Best disease," which adversely affects the BEST1 gene. Officially called vitelliform macular degeneration, this genetic mutation is usually noticed when a person is very young and can cause serious problems with central vision.
Interestingly, UPenn researchers have discovered that dogs can develop Best disease almost exactly like humans. A 2014 report also out of UPenn showed that Best disease destroys cells in the fovea of both dogs and humans. The fovea is an area in the retina that's packed with photoreceptor cells.
In addition to the loss of cells in the fovea, scientists also found that Best disease patients had a faulty retinal pigment epithelium (RPE). Basically, the RPE is responsible for helping photoreceptor cells communicate in the retina.
To try and correct the malfunction of the BEST1 gene, researchers injected dogs with a healthy strain of the BEST1 gene in a viral vector. Amazingly, within a relatively short span of time doctors noticed the structure of the dogs' retinae dramatically improved.
According to scientists' report, this new gene therapy procedure appears to be long-lasting. After five years of observation, all of the dogs injected with the BEST1 gene had perfectly normal vision.
Since both human and dog eyes with Best disease share so many similar mechanisms, scientists are optimistic this new gene therapy will have positive effects on Best disease patients. Before they attempt to use this therapy on humans, however, scientists will need to complete a number standard safety studies. UPenn doctors believe it will take at least two years before they begin clinical trials.
Children of parents with Best disease have a 50 percent chance of developing the disorder within their lifetimes. The first signs a child has this disorder include yellowish sacs forming on the eyes and issues with central vision. There is no cure for Best disease, but there are a few techniques like mobility training that doctors can use to help Best disease patients.
Karina E. Guziewicz, who teaches veterinary medicine at the UPenn, was the lead author of this new study. Although most of the study authors were either from U Penn's School of Veterinary Medicine or Perelman School of Medicine, a few scientists from outside schools helped the UPenn team. For example, Vince A. Chiodo of the University of Florida and Elise Héon of the University of Toronto contributed to this project.
People interested in learning more about this study can pick up the latest edition of the Proceedings of the National Academy of Sciences of the USA. This particular study was entitled, "BEST1 gene therapy corrects a diffuse retina-wide microdetachment modulated by light exposure."