Are Daily Lenses more Expensive than other lenses?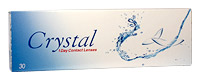 Thanks to technological advances daily disposable lenses have become increasingly common and very affordable for the average contact lens wearer. They are our most popular lenses thanks to the amount of time they save people and due to their safety.
For example - Crystal 1 Day lenses usually run around £7.50/box. That means someone could spend £15 a month or £180 each year on these lenses. A premium daily disposable lens like 1 Day Acuvue Moist would cost about £17.00/box, or almost £400 per year.
The average annual price for monthly disposable contacts is around £116 (based on air optix aqua replaced monthly). Of course, contact lens wearers also have to invest in liquid solutions to keep their contacts clean every day. These liquid solutions could cost around £100 per year (based on renu all in one solution). So, in total, the most typical monthly contact lens package is about £216 per year. Plus you have the hassle of cleaning and storing them each night.

So, incredibly, Crystal 1 Day work out to be cheaper than monthly lenses (£180 for Crystal 1 Day v £216 for Air Optix Aqua) and as the name suggests, daily disposable lenses are designed for one-day usage. Before going to bed, throw your dailies into the bin, then, when you wake up in the morning, pop in a fresh pair of contact lenses. It's that simple.