The Guide to Glasses for Christmas
When it comes down to Christmas shopping, some people are so difficult to buy for. Buying gifts should be fun and exciting, however when you don't even know where to start it can make the experience of gift-giving a whole lot more stressful than it needs to be!
A great gift option for someone who seems as though they already have everything, or that oh-so-difficult individual is a pair of glasses, or a voucher towards a new pair, depending on your budget, how well you know them and their needs etc. you can upgrade their style and help them out in their day-to-day life… after all, who doesn't love a new accessory?! Here's what you could consider…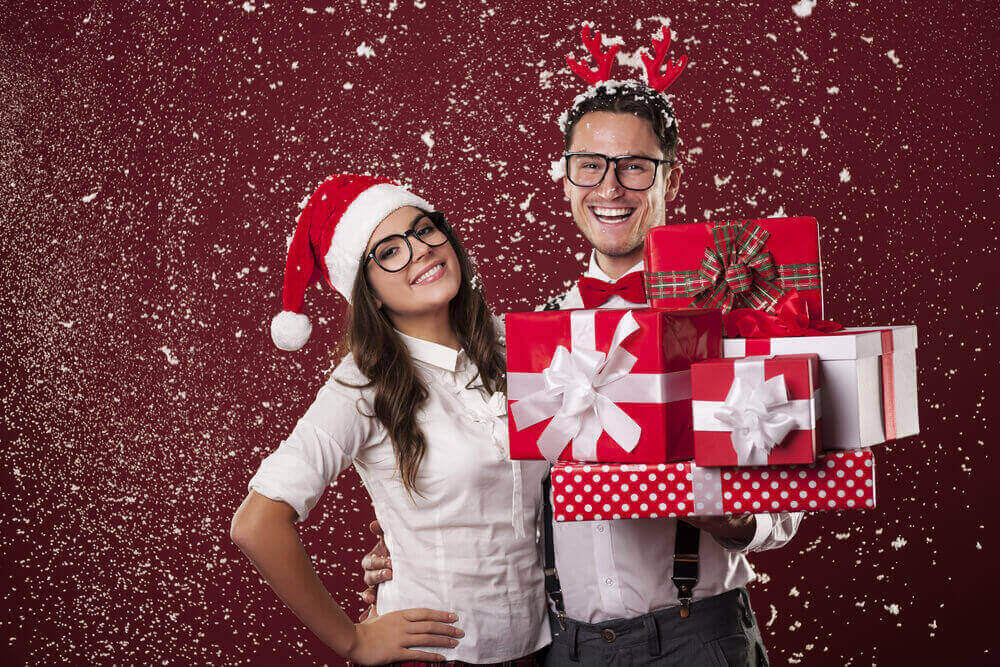 1. Classic Elegance: The Timeless Frames, For those who appreciate timeless elegance, consider opting for classic frames that never go out of style. Designs like round or rectangular shapes in neutral colours like black, tortoiseshell, or metal hues can effortlessly elevate any outfit. Whether they're heading to the office, a holiday party, or just relaxing at home, these frames will add an air of sophistication to their look.

2. Bold and Beautiful: Statement Frames, If your gift recipient loves to make a statement, go for bold and colourful frames that reflect their personality. Oversized, brightly hued, or uniquely shaped glasses can instantly become a fashion statement. These frames are perfect for adding a pop of colour to winter wardrobes and capturing attention wherever they go.

3. Minimalist Chic: Thin and Lightweight Frames, For those who prefer a more minimalist aesthetic, thin and lightweight frames are an excellent choice. These frames offer comfort and style without overpowering the face. Look for designs with sleek lines and subtle details, making them versatile accessories for various occasions.

4. Tech-Ready: Blue Light Blocking Glasses, In the digital age, many people spend a significant amount of time in front of screens. Help your loved ones protect their eyes with blue light-blocking glasses. These specialised glasses can reduce eye strain and improve sleep quality by filtering out harmful blue light emitted by screens. It's a thoughtful gift for anyone who's constantly working on computers or using mobile devices.

5. Retro Revival: Vintage-Inspired Frames, Vintage wear never goes out of style, and eyewear is no exception. Consider giving the gift of nostalgia with frames that draw inspiration from bygone eras. Whether it's the cat-eye glasses of the '50s or the round, wire-rimmed frames of the '70s, these vintage-inspired options offer a unique and charming look.

6. Active Lifestyle: Sporty Frames, For those with an active lifestyle, sporty frames are the way to go. Whether your loved ones are into hiking, biking, or hitting the gym, there are plenty of eyewear options designed to withstand their adventures. Look for frames with rubberised temples, snug fits, and impact-resistant lenses for maximum durability.

7. Sun-Ready: Prescription Sunglasses, Even though winter is upon us, the sun doesn't take a holiday. Prescription sunglasses are a practical and stylish gift for those who need corrective lenses. They combine the benefits of clear vision with protection from harmful UV rays, ensuring your loved ones can enjoy the outdoors with comfort and style.
If none of the above appeals or you want to give a thoughtful handmade gift, check out our guide on how to make a glasses chain.
Show your love to someone by improving their eyesight and style (not the most common of gifts… but why wouldn't you want a pair of glasses as a gift?) They're stylish, you can use them every day, they can improve your daily activities and they save you from having to spend the money on a pair yourself!

Whether it's sunglasses, reading glasses, everyday glasses or blue light glasses, the options are limitless and can make anyone smile just by knowing you thought of them!