A Guide To Frame Sizes
Finding the perfect glasses not only means looking at what style fits your face shape, but also what size will provide you with the best comfort and vision. Let's explore how glasses measurements are usually written, where you can find these measurements, what they mean and how exactly your glasses frames should fit your face.
How Are Glasses Measurements Usually Written?
Glasses measurements are usually written in three numbers separated by dashes or squares (for example 52-20-140). These measurements are in millimetres and they refer to the lens width, bridge width and temple length respectively.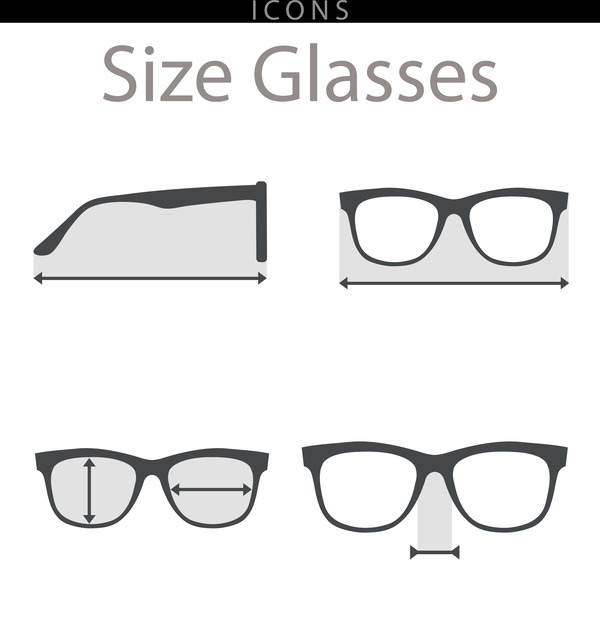 Where Can I Find The Measurements Of My Glasses?
These measurements can usually be found on the inside of your glasses' temple (the arm part that sits over your ear) or sometimes they can be on the bridge (the part that rests on your nose). If the numbers are worn out or not there at all, you can actually manually measure your glasses using a ruler if you have one, measuring tape or even string and then using a digital ruler on the internet.
What Do My Glasses Measurements Mean?
The first number (going back to our example above, 52 in 52-20-140) is the lens width or diameter. This is the width of one lens at its widest.
The second number (20 in 52-20-140) is the bridge width. This is the distance across the smallest part of your nose. It's the space between the two lenses.
The third number (140 in 52-20-140) is the temple length. This is the length of the arm, from the front of the glasses to right behind your ear.
Top Tips For Glasses Measurements
Always measure in millimetres as this is the industry standard.
When you are measuring lens width, you should measure from one side of the lens at its widest point to the other side, however excluding the frame.
For bridge width, you should measure the distance between the two lenses at the narrowest point possible.
For temple length, you should measure it from the hinge—where the arm connects to the front of the glasses—to the very back of the arm, which includes the curve that sits over your ear.
Lens Diameter / Width
The lens diameter or width is very important when it comes to how the glasses will look and feel on your face. A smaller lens width will suit you if you have a smaller face or if you are going for a subtler look, whereas a larger lens is really more of a bolder, fashion statement. Please note that the lens width does not really correlate to the overall width of the glasses, that is more down to the size of the bridge and design of the frame.
How Your Glasses Frames Should Fit Your Face?
Here's what you need to look out for:
The width of your frames should match the width of your face at the temples without really going beyond it. This is to prevent them from rubbing against your skin and potentially slipping.
Your pupils should be near the centre of the lens so that you have clear vision.
Your eyebrows should ideally follow the shape of the frames but they shouldn't really be completely hidden by them.
The frames shouldn't really touch your cheeks, even when you're smiling, as again this could irritation from potentially rubbing against your skin.
The bridge should sit comfortably against your nose so that it doesn't pinch you.
The temple arms should reach your ears without digging into the sides of your head.
Issues With Glasses That Don't Fit Well
If your glasses aren't fitted well, this can lead to several problems:
They can slip off which is a hassle and would need constant readjustment.
They can cause pain behind your ears or at the bridge of your nose.
Glasses that are too small or too big can affect your vision. And if your lenses aren't centred over your pupils, this could lead to eye strain or even double vision.
You could have regular headaches, especially if the temple arms are too tight and dig into the sides of your head.
Finally, glasses that don't fit well will most likely not look right and potentially dent your confidence.
Calculating Frame Sizes
Selecting the correct frame size based on your face width (from temple to temple) is really key here, mainly for your own comfort.
Face Measurement: To find out your face width, you'll need a flexible measuring tape. Measure horizontally across your face from one temple to the other in millimetres (mm). Once you've measured your face width, it's now time to choose your frame size.
• Small Frames: If your face width is less than 120mm, you should go for small or extra-small frames.
• Medium Frames: If your face width measures between 120-130mm, medium frames are your best bet.
• Large Frames: If your face width is over 130mm, then large frames will probably be the most comfortable fit for you.
• Extra Large Frames: If your face width is over 140mm, then you should opt for extra large frames.
If you want a more detailed guide then:
If our face width is 115mm - go for 49mm frames
If your face width is 127mm - go for 52mm frames
If your face width is 130mm - go for 54mm frames
If your face width is 135mm - go for 55mm frames
If your face width is 140mm - go for 57mm frames
If your face width is 146mm - go for 58mm frames
If your face width is 152mm - go for 61mm frames
Please note that these are rough guidelines and the best frame size for you will also depend on your individual comfort, style preference and the specific glasses brand you want to go for.
When you are buying glasses online, you can always use your current pair as a baseline for size.
Remember, a well-fitting pair of glasses will feel comfortable and secure, and most importantly they won't obstruct your vision. Whether you're going for a fashion statement, a timeless classic or a sporty vibe, glasses measurements are crucial and it's not all about aesthetics. So measure carefully and happy glasses hunting!