Types of Sunglasses
Sunglasses play a critical role in protecting our eyes, they aren't just used for their fashion appeal. They come in a wide range of styles, sizes, and designs, each with the perfect fit for a certain facial shape, personal style, and practical need. Let's clarify the different types of sunglasses, their importance, and how to select the best ones for you.

What are the Types of Sunglasses are there?
1. Aviator/Pilot: Originally made for pilots, Aviators are known for their dark, often reflective lenses, being two or three times the area of the eye socket and metal frames with wire temples.
2. Wayfarer: A classic design that pretty much complements almost all face shapes, Wayfarers have a thick frame and traditionally dark lenses.
3. Cat Eye: Popular among women, Cat Eye sunglasses sweep up at the outer edges where the temples or arms join the frame front.
4. Round: Inspired by the 60s and 70s fashion, John Lennon and Harry Potter, round sunglasses have large, circular lenses and are perfect if you have a square or rectangle-shaped face.
5. Rectangle: These glasses are broader than they are tall, perfect if you have a round face shape.
6. Oval: Oval sunglasses have curved frames and are wider than they are tall, perfect if you have a square or rectangular face shape.
7. Wraparound: These sunglasses extend around the sides of your face to give you peripheral coverage.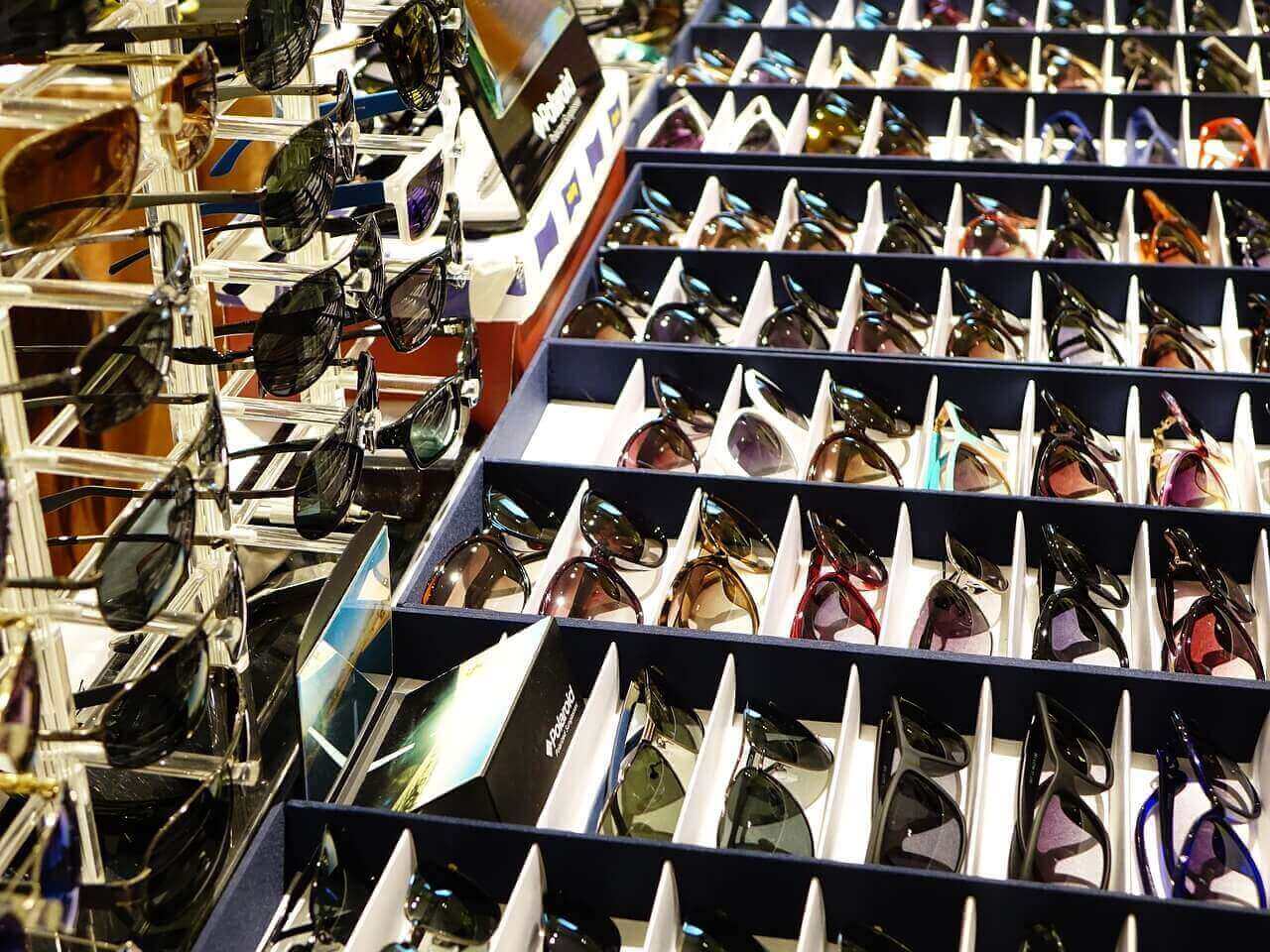 Why are Sunglasses Important?
Sunglasses are essential for keeping your eyes in good health. Sunglasses (with UV protection) protect your eyes from harmful UV rays that can cause conditions like cataracts, macular degeneration and pterygium. Sunglasses also shield your eyes from elements like dust and wind, giving you comfort in outdoor activities. Additionally, certain styles with polarised lenses reduce glare and improve visual clarity during sports activities on sunny days for example.
Which Type of Sunglasses are Best?
The best type of sunglasses depends on what your needs are. If you're looking for functionality, polarised or mirrored lenses with 100% UV protection are a great choice, as they reduce glare and block harmful UV rays. Aviators and wraparound sunglasses work well for high-intensity activities or sports due to their secure fit and extensive coverage.
For everyday wear, go for something that complements your face shape. Wayfarers and Aviators suit most face shapes, while round glasses are perfect for square faces, and rectangle or oval glasses work well with round faces.
What Type of Sunglasses Should I Wear?
This will depend on your lifestyle, fashion preference, face shape, and to some extent your budget. If you're into outdoor activities, consider sports sunglasses that provide excellent protection and are durable. If fashion is your priority, designer sunglasses in styles like cat-eye or oversized can make a strong statement.
When considering face shape check out our extensive guide here, or see below for a quick guide:
1. Round faces: Go for angular frames like rectangle or square glasses to contrast your round face
2. Oval faces: Lucky you! Most frame styles suit you, just make sure they're as wide as or wider than the broadest part of your face.
3. Square faces: To soften your strong facial features, go for round or oval sunglasses.
4. Heart-shaped faces: Balance your face's narrow bottom half with frames that are wider at the top, like cat-eye or semi-rimless frames.
5. Rectangular faces: Round or square frames with curved edges will help shorten your face.
Summary
Sunglasses (especially with UV protection) are a crucial accessory that everyone should have at their disposal on any given sunny day. Whether you're going for a casual stroll, hitting the beach or participating in sports, there's a pair that suits your needs and style. Remember the best sunglasses provide a balance of comfort, UV protection, durability and style. So next time you're out shopping for a pair, make sure to keep these points in mind.