Glasses vs Face Shape
Finding the perfect glasses can feel a bit overwhelming considering the sheer amount of shapes, sizes and styles available. Glasses are the perfect blend of form and function by not only correcting vision but also helping you look cool and trendy. The goal when choosing glasses is to find frames that complement your face and its features. But where should you start? Finding out what your face shape is first! Let's dive into understanding your face shape and seeing what glasses will best suit it.

What is my face shape?
Identifying your face shape is a very straightforward process! Look at your face in a mirror or a close-up photo. Pay attention to the widest parts of your face (forehead, cheekbones and jaw), the exact shape of your jaw and the length of your face. Face shapes can generally be boxed into six main categories: square, round, rectangular, heart-shaped, oval and triangle.
How exactly can I find my face shape?
Follow these steps to find out your face shape:
1. Pull Your Hair Back: You need a clear view of your face so if your hair is in the way, pull it back into a ponytail or hold it back with a headband. Comb back any fringes or side-swept hair that could obstruct your forehead.
2. Examine Your Forehead: Look at the width of your forehead in relation to the rest of your face. A broad forehead usually means you have a heart or oval-shaped face, while a narrow forehead usually means a long or rectangular face.
3. Check Your Cheekbones: Have a look at what the widest part of your face is. If it's your cheekbones, you likely have a round or diamond-shaped face.
4. Look at Your Jawline: The shape of your jaw can pinpoint what shape your face is. Square or strong jawlines usually mean a square or rectangular face, while a rounded jawline usually means a round or oval face. If your chin is pointed, your face is most likely heart-shaped.
5. Measure Your Face: For a more accurate breakdown, use a loose tape measure. You'll want to measure across the top of your cheekbones, jawline (from the tip of your chin to below your ear), forehead (from hairline to hairline at the widest part) and face length (from the centre of your hairline to the tip of your chin).
The largest measurement of all of the above features will really help you find out your face shape:

• If your face length is the greatest, then you most likely have a rectangular face.
• If your cheekbones and face length have similar measurements and they are larger than your forehead and jawline, you could have an oval face.
• If all measurements are relatively similar, you likely have a round face.
• If your forehead measurement is larger than your jawline, you may have a heart-shaped face.
• If your jawline is the biggest measurement, you may have a triangular face.
• If your jawline and cheekbones have similar measurements and they are larger than your forehead, you could have a square face.
Remember these are just guidelines. People's faces are unique, and they may not fit perfectly into one category.
How can I use my face shape to find which glasses suit me?
Now that you've identified your face shape, the next step is selecting glasses that create a nice balance with your facial features. Simply put, the aim is to choose frames that contrast with the shape of your face. But at the same time, they should also be proportionate to the size of your face. For example, a large face would usually look best with larger / wider frames, while a smaller face would be better suited to smaller / narrower frames.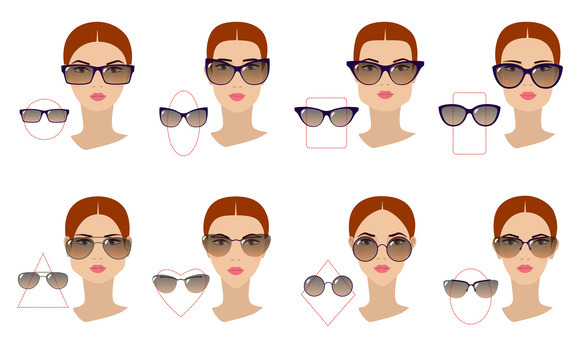 Best glasses for square faces
If you have a square face that usually means you have a broad forehead, strong jawline and cheekbones. Your face's width and length are more or less equal, making an overall square shape. The best glasses for square faces are round or oval frames. These shapes help to 'soften' your face's hard angles and add balance. Frame colours that add contrast or slightly wider frames can also work well here. Frames to avoid are those that mirror your face's natural angles, such as square or rectangular frames, as they can make your face appear too rigid.
Best glasses for round faces
If you have a round face you could picture it almost as a circle with the length and width being pretty much the same and your features evenly curved with no sharp angles at all. Rectangular and square frames add sharp dimensions to your round face, making it appear thinner and longer. Choose frames that sit high on your nose, which further stretches out your face. Large frames that go beyond the width of your face are also another great choice. However, stay away from round or small frames as they really highlight your face's roundness and make it appear even shorter.
Best glasses for rectangular faces
If you have a rectangular face this usually means your face is longer than it is wide, you have a high forehead, long nose and strong angular jaw. Your face shape suits frames that add width to it, giving almost an illusion of a shorter face. Go for oversized, square, or round frames. Decorations on the Glasses temples can also add width to your face. Make sure to stay away from small or short frames that can amplify your face's length.
Best glasses for heart-shaped faces
If you have a heart-shaped face or inverted triangle face, this usually means you have a wide forehead, high cheekbones and a narrow chin. To balance these features, go for frames that are wider at the bottom or light-coloured, rimless frames for a subtler look. Oval and round frames can also work well for you by adding balance and drawing attention away from your forehead. Stay away from frames that are decorative or wider at the top, as they can make your face look sort of top-heavy.
Best glasses for oval faces
If you have an oval face you are lucky as you have the most versatile face shape and can carry off a wide range of frame styles. Your face shape is slightly longer than wide, with balanced features and a chin slightly narrower than your forehead. Balance is really the key for an oval face, even more so than for other face shapes, so look for glasses that maintain your face's natural balance. Go for bold shapes, funky colours and textures. Square or rectangle frames usually work well for you. However, stay away from frames that are too large for your features. They can throw off the balance you are trying to go for and make your face appear longer than it really is.
Best glasses for triangle-shaped faces
If you have a triangle face you usually have a narrower forehead and a broad jawline. Your face shape can benefit from frames that add width to the upper half of the face. Cat-eye frames or frames with a lot of heavy details and colour on the top half are a perfect choice. Frames that are wider at the top also work well as they balance the width of your jaw. Stay away from narrow frames or those with low-set temples as they draw too much attention to your jawline.
Even though we explored every face shape and what is normally the best option for each it's important to remember that these are just general guidelines. Personal comfort and confidence are what really matter, it's important that you love the way your glasses look and feel.
Here are a few other things to take into account:
• Your personality and lifestyle: Are you fun-loving or quirky? Or are you serious and traditional? Your glasses should complement your personality. At the same time, they should also complement your lifestyle. If you're super active and lead an always on the go / adventurous lifestyle you should opt for durable and stronger frames.
• Your skin tone: The colour of the frames should complement your skin tone. If you have a warmer skin tone you usually look good with brown, beige, gold, honey or green frames. If you have a cooler skin tone you should go for black, silver, pink, purple, or grey frames.
• Your eye colour: If you have blue eyes, blue frames can make your eyes pop. For brown eyes, bronze or gold frames can add warmth.
• Your hair colour: If you have dark hair, contrast it with brighter or lighter coloured frames. If you have light hair then darker frames might work best.
Choosing the right pair of glasses normally comes down to your face shape, personal style and lifestyle. It does take a little trial and error to find the perfect pair, but once you do you'll feel confident and look amazing. Remember, just don't be scared to experiment and try to step out of your comfort zone!