Percentage of contact lens and glasses wearers around the globe
We all take our eyes and vision for granted, sometimes it's not until we ourselves need prescription glasses or contact lenses that we question just how many other people out there wear them.
It is easy to see how many people wear glasses, just a quick glance around the office, restaurant, or park can give you a rough idea, but telling how many people wear contact lenses is a little more tricky.
There are plenty of optician practices on the high street so this may give an indication that more than just a few people need vision correction, but is this the same throughout the developed world?
How Many People In Other Countries Wear Glasses?
This is a question that a few of us at contactlenses.co.uk were asking ourselves, we didn't realise what a rabbit hole we would journey down to get our answers or how many sites we'd have to visit!
We were surprised at the wide discrepancies between the highest number of glasses wearers in Europe (1) Belgium and North Macedonia top the charts at 70% and the lowest number of glasses wearers in Turkey and Estonia at just 20%.
So in Belgium we could expect to see 7 out of 10 people wearing glasses (unless they are wearing contact lenses) and just 2 out of every 10 people in Turkey. That's a big difference, is it because the Turkish population has such good vision? Or, more likely that they have less access to eye care and glasses suppliers.
You might expect the wealthier countries to have more access to eye care and be more able to afford glasses yet in the top 5 European economies, Germany, France, UK, Italy and Spain and yet only Germany appears in the top 5, at number with 63.5% of its population wearing glasses, the UK comes in at number 8 with 59% of us wearing glasses, Italy appears at number 12 with 51.8% and France doesn't arrive until number 21 with just 29.5% of french people wearing glasses.
The mean figure for people across all these countries wearing glasses is 50.7% so all countries above number 13 entry have a higher proportion of glasses wearers than the European average and all countries below number 13 have a lower than average amount of their population wearing glasses.
A quick survey of everyone in our office shows that 57.1% of us wear glasses (actually we all wear contact lenses- but have a pair or more of glasses at home) that's higher than the European average and a little lower than the UK population - but only marginally.
Percentage Of European Population That Wear Glasses
1. Belgium 70%
1. North Macedonia 70%
2. Switzerland 67.7%
3. Norway 66%
4. Finland 65%
4. Cyprus 65%
5. Germany 63.5%
6. Czechia 61%
7. Denmark 60%
7. Slovenia 60%
8. United Kingdom 59%
9. Malta 57%
10. Spain 55%
11. Poland 53%
12. Italy 51.8%
13. Austria 51%
14. Romania 50%
14. Netherlands 50%
15. Lithuania 46%
16. Bulgaria 45%
17. Croatia 40%
17. Sweden 40%
18. Latvia 39%
19. Greece 35%
20. Hungary 30%
21. France 29.5 (2)
22. Estonia 20%
22. Turkey 20%
But why stop at Europe?
Apparently, a whopping 73.9% of Japanese wear glasses (3) and a high number of Americans wear them too 64.3% (4)
Just 29% of Indians who responded to a survey in 2020 said that they wore glasses (5) and 14.6 of South Africans wear visual correction (6)
In Africa it is estimated that 550 million people need eyeglasses but that barely 1% have access to them.
In contrast a survey carried out by the British Medical Journal (BMJ) found that 5% of students in Tanzania were wearing spectacles when they attended the survey (7).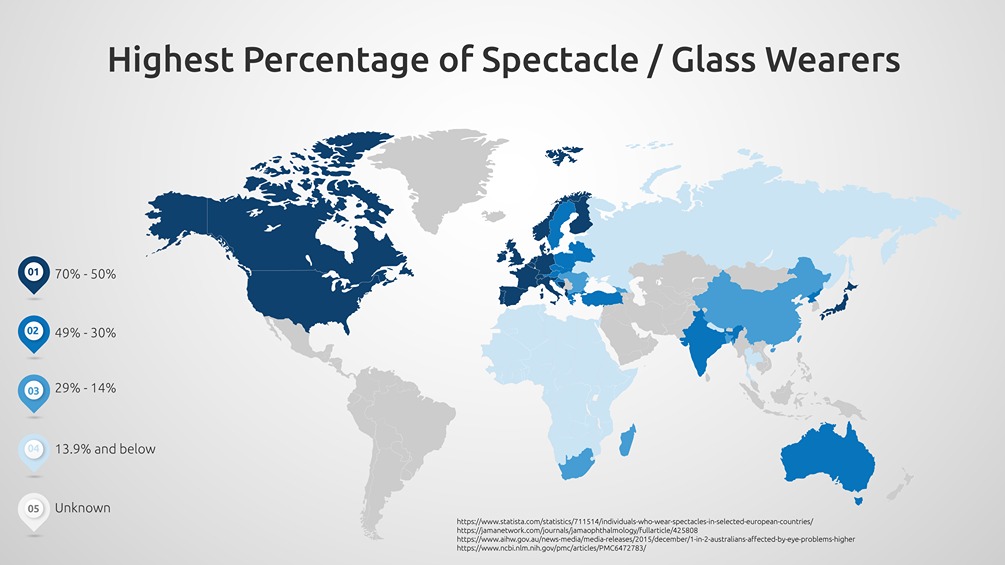 Highest Percentage of Spectacle Wearers
How Many People Around The World Wear Contact Lenses?
When we looked into how many people were wearing contact lenses we were not surprised to see that fewer people wore contact lenses, but just how few were surprising.
Sweden shares the top position for the amount of its population wearing contact lenses, this surprised us, as it didn't make an appearance until number 22 for glasses wearers with 40% and yet 30% of its population wears contact lenses.
Most other countries have a significantly lower percentage of people wearing contact lenses as opposed to glasses.
Belgium was number 1 for glasses wearers at 70% only comes in at number 6 for contact lens wearers with just 10% of its population choosing to wear contact lenses (8), whereas North Macedonia which shared the top slot for glasses shares the top slot again for contact lenses with 30% of its population wearing contact lenses.
Europe's top 5 economies fared no better with contact lens wearers.
Germany who was at number 5 only comes in at number 9 with just 6.2% wearing contact lenses, the UK drops goes up just one point from 8 to 7 with 9% wearing contact lenses, Italy goes from 12th place to 10th with 6% of its population wearing contact lenses and Spain moves up the list from 10th to joint 6th place with Belgium, Denmark, Estonia and Norway with 10% of their population wearing contact lenses.
Percentage Of European Population That Wear Contact Lenses
1. Sweden 30%
1. North Macedonia 30%
2. Netherlands 25%
2. Cyprus 25%
3. Switzerland 19.6%
4. Hungary 15%
5. Czechia 10.2%
6. Belgium 10%
6. Spain 10%
6. Denmark 10%
6. Estonia 10%
6. Norway 10%
7. United Kingdom 9%
7. Finland 9%
8. Malta 8%
8. Austria 8%
9. Germany 6.2%
10. Greece 6%
10. Italy 6%
11. Slovenia 5%
12. France 4.9% (9)
13. Poland 4.4%
14. Lithuania 4%
15. Latvia 3%
16. Romania 2%
16. Croatia 2%
17. Bulgaria 1.3%
18. Turkey 1.25%
Around the world shows similarly low take up on contact lenses.
Even Japan, which is generally considered to be one of the largest contact lens prescribing countries in the world, only has a little over 10% of its population wearing contact lenses (10), whereas Canada has approximately 9.2 percent of its population wearing contact lenses (11).
In comparison using a population-based survey, an estimated 40.9 million people in the United States aged over 18 years wear contact lenses, 16.7% of U.S. adults (12). Approximately 6.4% of Australians between the ages of 15 and 64 years wear contact lenses (13).
Russia has surprisingly few people wearing contact lenses with just 1% of its 146 million people wearing contact lenses (14), that's still approximately 1,460,000 contact lens wearers!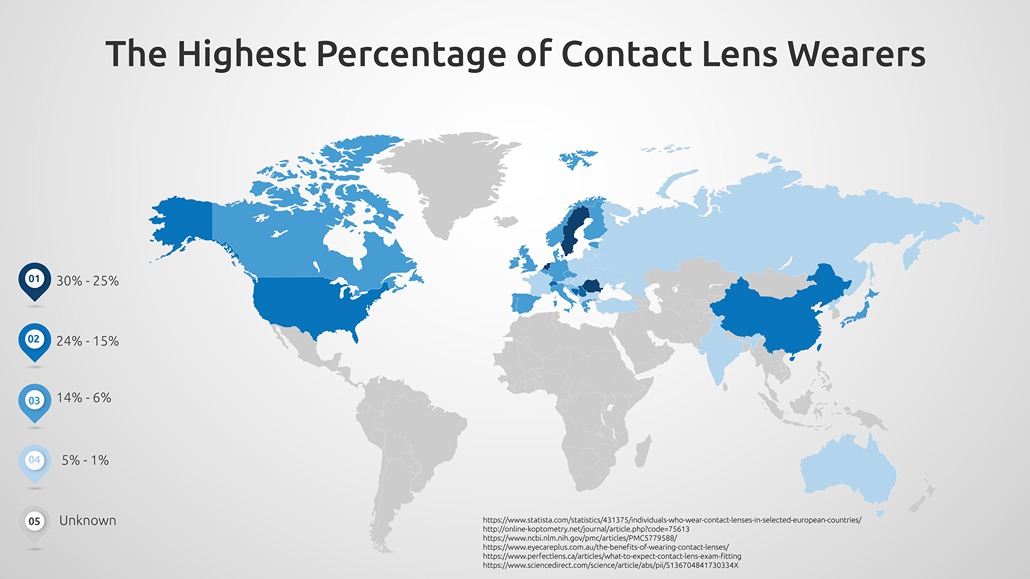 Highest Percentage of Contact Lens Wearers

From these figures we deduce that there are a lot of people out there wearing glasses that could be wearing contact lenses and benefiting from great all-around vision - no glasses frames to impede your view:
No One knows you need vision correction
Clear vision - no misting or smudges
Freedom for glasses for sports
Great choice of Sunglasses etc
If you are one of the people wearing glasses and thinking of contact lenses check out our guide on the 10 reasons contact lenses are better than glasses. We are confident you will make the switch.