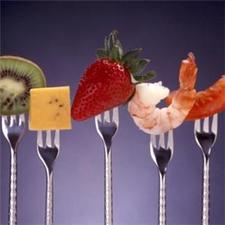 Most people in the UK are not aware that what they eat can have an impact on their eyesight, a new study has found.

The poll, for the College of Optometrists, discovered that 65 per cent of people did not know that eyesight is affected by food.

A 52 per cent majority do not eat enough fish oils and 44 per cent do not get enough green, leafy vegetables.

Dr Rob Hogan, president of the College of Optometrists, called the results "surprising".

"Most of us are aware of the link between a poor diet and conditions such as heart disease, but sadly we often take our eye health for granted," he said.

Essential fatty acids and the lutein in green leaves can help ward off age-related macular degeneration (AMD), which can cause blindness.

Eyesight charity RNIB has given advice on how to eat to help protect vision.

It explains the importance of anti-oxidant vitamins A, C and E.

Sources of these vitamins include green leafy vegetables as well as tomatoes, oranges, peppers and raw carrots.

It also stresses that sunglasses must be worn in bright light.

by Adrian Galbreth