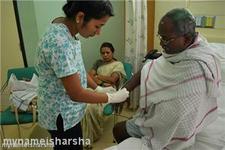 By Martin Burns

Thousands of pairs of glasses have been collected by Lions Clubs International groups to help people in the third world.

Home Town Life reports how the Livonia High Nooners Lions Club gathered about 5,000 pairs which will now be cleaned, repaired and distributed to people who need them.

The group is still collecting glasses for the cause.

It has previously collected spectacles to be given to the sufferers of Hurricane Katrina.

Volunteers also went to help fit them and find the right prescription.

Elsewhere, the Seattle Post Intelligencer reports that the Longview/Kelso Early Birds Lions Club sent 760 pais fo glasses to Afghanistan.

Most of the recipients will be children.

As well as spectacles, the Lions Club also collects hearing aids throughout the year to take to vulnerable people in the developing world.

The glasses are being sent by Kerby Kee, a past club president.

He told the paper: "Some of the villages there have never even seen glasses."

by Adrian Galbreth