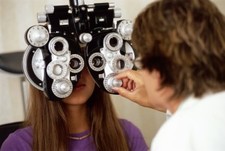 Although vision loss cannot be completely prevented, people who regularly attend eye exams may help to slow the process considerably, one source has suggested.

Food consumer warned that not having vision frequently assessed by an expert may place people at risk of conditions such as cataracts and age-related macular degeneration advancing considerably.

It advised people who wear Contact lenses to regularly visit a professional to have them assessed and re-fitted, if required.

"Sometimes, vision loss is preventable. Regular comprehensive eye exams and prompt treatment are important factors in preventing vision loss," the source advised.

It also advised people to research conditions such as AMD and cataracts so they can spot any early symptoms and have them addressed quickly.

Recently, the resident health expert for the Wisconsin Rapids Tribune said that wearing contact lenses to an exam can save time, as the person assessing the individual will not have to ask numerous questions.
by Emily Tait