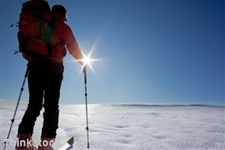 By Alexa Kaczka

It is just as important for people to protect their eyes from UV rays in the winter as it is in the summer months, one organisation is warning.

According to a report from SelectSpecs.com, the damaging effects of UV rays on people's eyes during the winter are just as great as in summer, but widespread ignorance of the facts means that millions are potentially putting their vision at risk.

Over exposure to UV rays increases the risk of developing cataracts in later life, which highlights the need to use eye products with UV protection, the organisation stated.

A survey carried out by the company found that nearly 50 per cent of respondents said they rarely or never wear sunglasses in winter, while 82 per cent did not know that on an overcast day, as much as 90 per cent of the sun's harmful UV rays still penetrate the clouds.

Recently, optometrist Dr Mike Houle told KXNet.com that, as UV rays are known to damage the eyes, it is especially important to ensure that young people wear eye protection during the summer months or whenever their face is exposed to the sun.
by Emily Tait