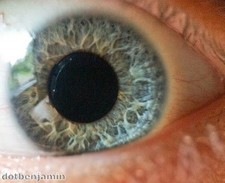 An elderly man who has spent a decade registered as blind has regained his sight.

George Hudspeth claims that this happened after he spoke to a picture that featured his late wife.

Doctors diagnosed Mr Hudspeth, of Daventry, Northamptonshire, with dry macular degeneration ten years ago and he lost all sight a year ago.

The former army officer, 76, has now seen his granddaughter for the first time.

He said: "I want to tell the world because I am sitting on top of Mount Everest shouting "I can see." I can"t explain it. I can"t find the right words. I can see just as well as anybody else. It is truly incredible and I couldn"t be happier."

Experts cannot explain how Mr Hudspeth regained his vision after suffering from the condition, which his sister and father are also affected by.

Furthermore, a father from Devon recently underwent a pioneering multi-focus lens transplant. Andrew Keen suffered from a number of vision problems and had an operation which saw acrylic multi-focal lenses implanted into his eyes, the Plymouth Herald reported.
by Alexa Kaczka