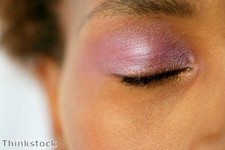 By Emily Tait

Women wearing contact lenses could invest in some metallic eyeshadow, which is becoming all the rage in Hollywood.

According to Style Bistro, High School Musical star Vanessa Hudgens was most recently spotted with the look, as she attended the premiere of her new film Sucker Punch on Wednesday (March 30th).

The actress arrived at Leicester Square in London for the red carpet event, with sparkling silver eyeshadow lining the top and bottom lids to attract attention to her eyes.

She finished the look with some blended blusher and pink lip-gloss.

More famous names are adopting the style, the website reported.

"We've spotted other celebrities with a similar look, including Kelly Osbourne, Jennifer Lopez, and La La Vazquez," it said.

The Bangkok Post recently said that concealer can cover up any flaws around the eyes and smooth out the skin, making a large difference to the area around contact lenses.
by Emily Tait