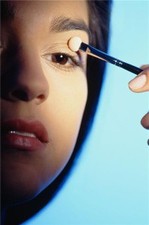 Contact lens wearers need to take extra care to ensure they do not allow oil to build up on their contacts, one expert has advised.

According to Bridgette Yeo, a registered optometrist at Stan Isaacs, writing for Asia One, many people are failing to properly follow care instructions for their contact lenses and may therefore be putting their vision at risk.

She explained that people who follow manufacturer instructions will find that their contacts are perfectly safe, but those who do not risk the build-up of oils due to factors such as running makeup.

"Always wear contact lens before applying any beauty products near the eyes to reduce the possibility of oil deposits coming into contact with contact lenses," the specialist advised.

Recent research carried out by experts at the Kinki University in Osaka, Japan, has found that oil-based makeup and cleansers need particularly careful handling if women are to avoid infection and the instructions on contact lens packaging must therefore be closely adhered to.

A range of contact lens friendly cosmetics free from Paraben, Chrome, purfume etc can be found online at contactlenses.co.uk.
by Alexa Kaczka