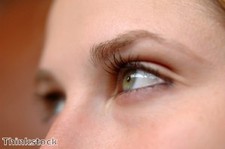 Millions of people across the planet suffer from vision problems and, while this used to be a major problem, in today"s world there are countless products available to help make their everyday lives more comfortable, from glasses to contact lenses to laser eye surgery.

However, in some cases people have vision problems which are so bad that no product is capable of having a major impact on their ability to see, and for these people life can become a constant struggle.

One of these people was Ruth Smith, an accounts manager and mother-of-two from East London who suffered from both presbyopia and short-sightedness and found that her ability to carry out daily tasks was getting increasingly difficult.

When it got to the point where even glasses and contacts lenses could not boost her vision adequately, she decided to undergo a brand new type of treatment to help fix her vision, the Daily Mail reported.

After a consultation with her eyecare professional, Ms Smith was offered the opportunity to become one of the first people to undergo an innovative type of treatment called Z Kamra.

She told the newspaper: "He explained that first he"d do traditional laser surgery, where he"d smooth out the cornea in both eyes, making it flatter so I could see things at distance.

"Then he"d put in a plastic implant that looks like a tiny black Polo mint into just one eye."

After being referred to David Allamby, an ophthalmologist who would carry out the procedure, she was advised to take a 400mg daily flaxseed supplement for 30 days before the procedure and at least 90 days after it to prevent dryness.

When the time came for the procedure, the expert placed anaesthetic drops in both of Ms Smith"s eyes before carrying out the laser part of the operation.

Then, she had the implant inserted into her left eye, and noted that only one eye needs to be treated, as the brain "interprets the image as though seeing the same picture through both eyes".

She explained: "He checked the position of the implant, put in some drops, and I was going home on the bus within 30 minutes. I can honestly say I could see perfectly as soon as I sat up after the operation."

Dr Allamby, who practices at Focus Clinics, London, said that there is "no escape" from developing presbyopia, but added that the new procedure offers a unique way to treat it.

He noted that Z Kamra works much in the same way as a pinhole camera, as the implant sits on the pupil and restricts the amount of light coming through to the retina.

In turn, by only allowing the light through the central beams that produce the "sharpest" images and blocking out the others, the implant can "restore the perfect vision most of us were born with".

He elaborated: "I treat only one eye with an implant, so as with blended vision we rely on the brain to compensate."

One of the main benefits is that, if people are not happy with the procedure, they are able to have it reversed, which only takes a matter of minutes and is ideal for those who have second thoughts, he explained.

"From studies, some people found their vision was not as good as their expectations, so they requested removal, but it is easy to do," Dr Allamby told the newspaper.

However, for patients such as Ms Smith, it is a great treatment that can enable her to get on with things that may have posed a problem before.

"When I think this has restored my sight to how it was at 13 - more than 30 years ago - I feel a bit emotional. I can read a book easily, and work at my desk, taking everything in at once. I"ve thrown away my old glasses; I"ll never need them again," she added.  
by Alexa Kaczka