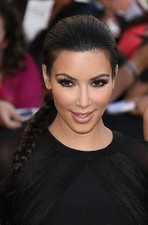 By Emily Tait

Those looking to imitate the eye makeup glamour of Kim Kardashian can choose between the more simple daytime look or the complex night time looks that she is known for.



Makeup artist Mario Dedivanovic recently told Starlounge that his client's eyes are her best feature and the looks he chooses for her often accentuate this.



He said that he typically uses a simple and classic look for the daytime that emphasises her natural beauty and only ramps it up in the evening.



Mr Dedivanovic said: "For evening it's very easy to bump up a look by adding some black eye pencil all around along the top and bottom lash lines."



His top beauty tips include getting a good amount of rest and sleep and drinking plenty of water and keeping hydrated.



Eyelashes should be curled and emollient moisturiser applied before the eye makeup is put on, while a good lip balm should also be included.



Those looking to show off their eyes to the best effect should also consider shopping for a pair of classic sunglasses, as Myimageexpert.com chief executive Erika Chloe has picked this out as a hot new trend.
by Martin Burns