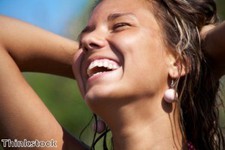 By Alexa Kaczka

Contact lenses help millions of people around the world to see clearly and improve their way of life by offering them improved vision and comfort without the inconvenience of wearing glasses.

However, not every type of contact lens is the regular sort that people's friends and family may wear, as often people suffer from specific conditions that require a unique type of contact lens to correct.

One such patient is teenager Sophia Sevaks, a sufferer of a hereditary vision disorder whose struggle to see clearly was recently documented in the Jerusalem Post.

When Sophia started a new term at the Meir Shfeya Youth Village school near Zichron Ya'acov in Israel, her teachers immediately noticed that she had nearsightedness, needing to sit in the front row of class and hold her schoolbooks close to her face.

Although she could read and write, one day she was asked to pass a glass of juice but instead grabbed the tablecloth, after which it became evident that her vision was far worse than thought.

She was taken to a local ophthalmologist, who found that her retinas were atrophied and recommended she apply for assistance from the Michaelson Institute for Rehabilitation of Vision, the newspaper noted.

There, Dr Tatiana Floresco-Sebok found she was suffering from achromatopsia, a rare, hereditary vision disorder that causes colour blindness, nystagmus, shortsightedness and light sensitivity.

Although a candidate for a new type of stem-cell therapy and genetic testing to help her prevent passing on the disorder, she needed an immediate solution, which came in the form of special contact lenses.

The contact lenses have red centres to cover the pupil and filter incoming light and can also be customised to help compensate for nearsightedness.

After trying them on, the change in her eyesight was evident immediately and Sophia now wears them every day to help combat her condition and allow her to see clearly – a positive change which has had a huge impact on her life.
by Emily Tait