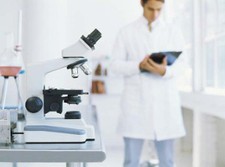 By Adrian Galbreth

Experts in Canada have developed a new system of delivering drugs to people's eyes, which they claim could revolutionise the way certain conditions are treated.

Researchers at McMaster University claim that the microneedle technique, which delivers drugs to the back of the eye, could offer more effective treatment while sparing patients with vision-related diseases the routine of having drugs injected into their eyes by syringe every six to eight weeks.

It utilises a flexible patch that would typically stay on the eye behind the lens for as much as a year at a time, slowly releasing controlled doses of medicine to the vitreous body of the eye through a group of microneedles that are small to feel.

The needles can be tailored to reach specific layers of the eye as needed, with the patch then attached on an in-patient basis and not affecting the patient's eyesight when in use.

Study co-author, Heather Sheardown, a professor of chemical engineering at the university, revealed that a team of chemical and mechanical engineers tested the system successfully on eyes extracted from cows, moving the concept a major step closer to being tested on humans.

In the report, which is published in the online edition of the Journal of Biomaterials Applications, she reveals that such a patch would be a much more precise and effective vehicle for delivering medications to patients with vision-related complications of diabetes and age-related macular degeneration.

"There's lots of potential for treating eye diseases that we didn't have even five years ago. It's really exciting," she explained.

"There are medications out there to treat these diseases. As we develop better delivery methods, blindness isn't going to be something that has to happen. If we can catch the disease early and we can treat it early, we can stop its progression," Professor Sheardown added.
by Martin Burns