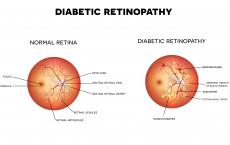 New information released in the British Medical Journal shows a sharp decline in the number of Welsh residents living with diabetic retinopathy. Members of the Welsh government say these numbers prove the NHS Diabetic Retinopathy Eye Screening (DES) Programme has been a success.

Students and professors at Swansea University used data on blindness certifications across Wales between 2007 and 2015. These researchers analyzed how many people in Wales were suffering from blindness directly due to diabetic retinopathy.

In the final report, Swansea researchers wrote that certifications for blindness were 339 less in 2014 – 2015 than in 2007 – 2008. Looking specifically at diabetes, the group found that there were 22 fewer blind diabetics.

Even more dramatic, the researchers discovered that certification in severe sight impairment fell by 49 percent. This translates to a difference of 31.3 blind patients per 100,000 to 15.8 per 100,000 residents.

While these numbers are encouraging, there are still a great many people in Wales living with diabetes. During the time this study took place, researchers found that 40 percent more people (or 52,229 patients) were diagnosed with the disease in Wales alone.

Quentin Sandifer, the medical director at Public Health Wales, said this report was extremely impressive considering diabetic retinopathy rates went down while the amount of people diagnosed with diabetes went up. He also encouraged every diabetic over the age of 12 to take advantage of free retina screenings as part of the DES Programme.

Another local leader celebrating these results was Public Health Minister Rebecca Evans. Evans told reporters, "This is another fine example of the Welsh NHS making a real difference to people's lives."

One of the key researchers on this project was Professor David Owens, who teaches at the Diabetes Research Unit Cymru at Swansea University. Dr. Owens said his research only reaffirms the importance of getting regular eye screenings to detect early signs of diabetic retinopathy.

Diabetic retinopathy is a complication that affects a diabetic's retinae and eye blood vessels. A few symptoms that might appear early on include difficulty seeing in dim areas, floaters, and dark spots. Unfortunately, most of the time people who have diabetic retinopathy don't experience any symptoms.

Ophthalmologists can detect the beginnings of this diabetic retinopathy with a thorough eye exam. Even people who don't feel visual symptoms can be carrying this potentially blinding disease in their system. That's why eye doctors recommend every diabetic get eye exams every year.

Although there's no cure for diabetic retinopathy, there are numerous ways doctors can manage symptoms if they catch the disease in time. For example, doctors can suggest a change in diet and nutritional supplements.

If, however, the disease has advanced further, doctors may have to prescribe blood vessel growth inhibitors or steroids. Eye surgeons can also perform laser surgery or a vitrectomy in extreme cases.
Any diabetic in the United Kingdom can take part in this DES Programme. If you need more information on diabetic retinopathy or the DES Programme, the UK government urges you to check out www.gov.uk or www.nhs.uk.