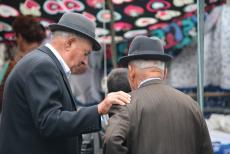 A new report suggests one in five UK residents will have some form of sight loss in the near future. As of today, researchers believe there are at least six million people in the UK with serious sight issues.

Both the Royal National Institute of Blind People (RNIB) and Specsavers released this shocking report in London to coincide with National Eye Health Week. These two organizations found that 250 people in the UK are diagnosed with some form of sight loss every day.

The main reason for the rapid rise in sight loss cases has to do with the aging population. 80 percent of the people who had some form of sight loss in this study were over the age of 64.

Since women live longer than men on average, their risk for developing sight loss is dramatically higher. One in four women will face sight loss in the future, but only one in eight men will suffer the same fate.

The UK's Office of National Statistics now estimates that life expectancy is 83.1 years for women and 79.4 years for men.

But it isn't only an increasingly aging population that's causing the rise in the UK's eye problems. Researchers have also found that only 25 percent of UK residents are getting regular two-year eye checkups.

Although most UK residents don't go for regular checkups, most of the people surveyed are extremely concerned about losing their sight. When asked which of the five senses they couldn't live without, a whopping 78 percent of respondents said sight. Second place went to smell, which only garnered 8 percent of the vote.

Sadly, many people in the UK don't know all the amazing benefits of getting a regular eye screening. For example, 80 percent of UK respondents didn't know opticians can detect cardiovascular diseases from a routine eye exam.

Both the RNIB and Specsavers believe more can be done to educate and encourage Britons to go to their opticians regularly. Since half of all the cases of sight loss in the UK are preventable, getting more people to see their opticians is key to reducing the strain on NHS eye care resources.

Doug Perkins, the founder of Specsavers, said this new study should be a wakeup call for all politicians and health care workers in the UK. He also said he hopes there can be more campaigns to encourage more people to get regular eye screenings.

If nothing is done to address this issue, Mr. Perkins believes the situation will only get worse. Perkins told reporters, "Patients' sight will be put increasingly at risk, deepening the economic burden that we already estimate will rise from £28 billion today if nothing is done now."

Sally Harvey, the acting chief executive officer of RNIB, suggested creating more integrated services and a better referral system within the NHS to better serve patients. She also supports active planning the help local communities more effectively manage this impending eye health crisis.

To help raise awareness for the importance of regular eye screenings, TV presenter Anne Robinson is serving as 2017's ambassador for eye health. Robinson is sharing her father's story of being diagnosed with cataracts and encouraging older UK residents to see their optician as often as possible.